Welcome to Antares Homestay

Located in the heart of Marlborough wine country, Antares Homestay is architecturally designed, comprising 3 octagonal modules, therefore each room has a unique and interesting shape and large windows providing garden views.
At Antares Homestay you will find relaxed hospitality in a beautiful and secluded 4-acre native garden setting with freshwater ponds and fascinating wildlife, surrounded by vineyards and our olive and lemon groves.
From our central location, you can explore and taste the delights of Marlborough at nearby wineries and restaurants including the world-renowned Herzog Restaurant and Winery, just a short stroll from Antares Homestay.
Explore the nearby Wairau River, one of our planet's finest examples of a braided river, home to trout, salmon, and breeding ground of aquatic birdlife including the endangered black-fronted tern and black-billed gull.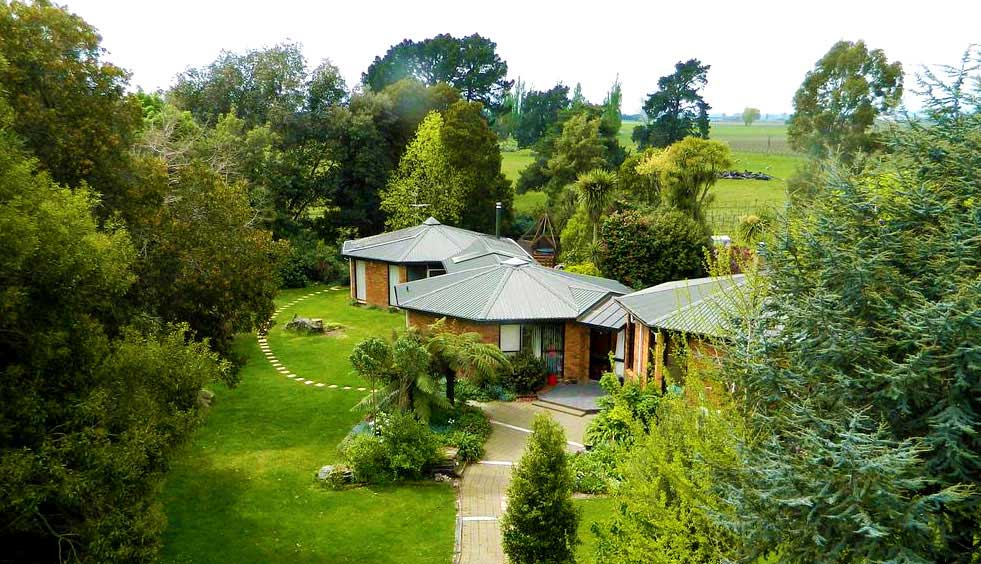 We are able to offer a total of 5 bedrooms sleeping a total of up to 5 guests on a bed and breakfast basis with dinner as an option – please contact us for full details.

What a perfect weekend! From the moment we arrived down the tree-lined driveway and were greeted by Mandy, we knew we had picked the perfect spot for our getaway. The eco pod was even better than described – a perfect cocoon facing out to the neighbouring vineyard. We booked dinner at Hans Herzog on the night of our arrival, but kicked the affair off with a bottle of No 1 Cuvee which Mandy had arranged for our pod (a welcome addition). The meal at HH was exceptional and highly recommended. Breakfast on our own private balcony with fresh-brewed coffee meant both days at Antares got off to a perfect start. We spent our first day cycling between vineyards (bikes supplied by Antares) and Mandy and Patrick helpfully provided us with a map and recommendations, including pointing out the organic vineyards. When we arrived home well-exercised and lightly-oiled, a splendid cheese selection awaited in our pod. An excellent match for the pinot noir we picked up along the way. We were treated to a late check-out on Sunday and Patrick kindly dropped us off at Cloudy Bay for lunch, later collecting us and seeing us to the airport for our late afternoon flight. Location, hospitality, luxury add-ons, gardens, pool, hot, tub, bikes, transport…all 5 stars. We can't wait to come back and enjoy it all over again.
Had a few days at this lovely little homestay, we were in the loft with two bedrooms and full kitchen/living facilities. It was a little confusing to find the reception at first but that could have been our terrible eyesight! The rooms were clean and well appointed, breakfast was provided including toast, yoghurt, muesli, fruit, eggs and homemade preserves, including an extensive provision for my lactose intolerance. From the second we arrived Mandy was helpful, easy to find but not right on top of us every second.
She made us a reservation for dinner that night and recommended a wonderful vineyard tour. The pool was warm and there were lots of toys if you needed them. There was also a collection of books and dvds, and a couple of puzzles in the rooms. Also the place is well away from the hustle of the township so at night the stars were breathtaking, and it was lovely and quiet with lots of native birds around.
If I'm ever in Blenheim I would definitely stay again.
We had a wonderful stay in the apartment, with a beautifully set up lounge, well equipped kitchen, very generous breakfast supplies and use of the swimming pool and hot tub.
We also made full use of the garden, sitting outside enjoying the spectacular views over the vineyards, and watching the birds. The bike hire was great and we spent a day out cycling around the countryside and visiting the wineries.
The property is next to several wineries, with the Hans Herzog bistro and fine dining restaurant 5 minutes walk away (both well worth visiting).
Mandy and Patrick were so welcoming, and very helpful with suggestions on places to visit and things to see. We probably wouldn't have thought of going to a few of the coastal places without their knowledge.